We are Climate Reality: Pittsburgh & SWPA
Climate Reality: Pittsburgh & SWPA is a community of concerned Southwestern Pennsylvania citizens and neighbors who are addressing the climate crisis in our own backyard. We couldn't be any more proud that Mayor William Peduto has reaffirmed Pittsburgh's support for the monumental Paris Agreement and pledged that Pittsburgh will be 100 percent renewable by 2035 with or without the support of the president.
What is critical in making a sustainable future a reality is support from local citizens like you to drive progress, to make sure goals are met, and that people at every level of society are held accountable.
In October 2017, Pittsburgh welcomed The Climate Reality Leadership Corps's largest training to date, as more than 1,300 climate trainees from 130+ countries arrived in our city for the three-day event lead by Former Vice President Al Gore, leading environmental scientists, and professional communicators. Trainees upped their knowledge of the science behind the climate crisis and mastered the art of engaging, empowering, and inspiring audiences everywhere to join in our demand for action. Many of us are those trainees - now fully certified Climate Reality Leaders and united together in Southwestern Pennsylvania - and we're more prepared than ever to demand that policymakers leave dirty fossil fuels behind.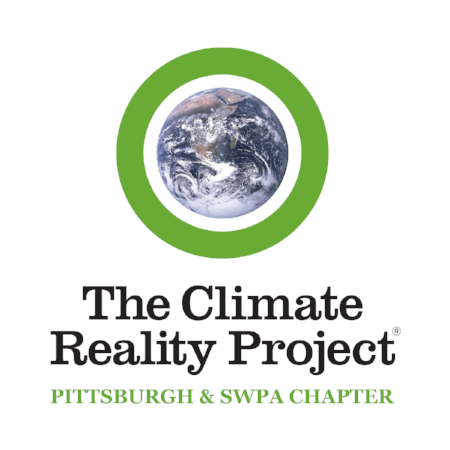 Fight like your world depends on it...
Because it does.

Chapter membership is free,nonpartisan, and welcomes all interested members of the community.
Benefits of Chapter Membership
In addition to saving the world, membership benefits include:
Network with other engaged local climate advocates, influencers, and professionals
Hone valuable skills and abilities needed to influence, mobilize, and lead others
Develop local campaigns and leverage shared expertise to effect climate action
Master public speaking while delivering presentations to the community about climate change
Receive ongoing education about climate science and communication skills from leading scientists and advocates
Benefit from access to the strategic know-how, tools, and policy resources of The Climate Reality Project
We must seize the potential of clean energy to power our lives safely and sustainably today. We do not have the luxury of time. We know we must change and leave fossil fuels like coal and natural gas behind. We already see clean energy technologies creating jobs and powering a thriving economy in Pittsburgh & Southwestern Pennsylvania, so we know we can change. And with more committed citizens joining us by the day to fight for the future we want, we know we will change.